Every gestational surrogate's medications and timeline will vary somewhat, depending on what a fertility clinic prescribes. Still, most women who are thinking about becoming surrogates want to know what that medical process is like — including side effects from medications, the types of medications they might have to take, and more.
Here, Chelsea, a former American Surrogacy surrogate, explains the surrogacy medications she took, some tricks she found helpful, and more:
Chelsea's Medication Experience
The first medication that the clinics will generally put you on is birth control pills. Even people who have their tubes tied are required to use this. This helps the clinic manipulate your cycle to line up with your transfer date. They're very precise and tell you when to begin the pills and when to discontinue them.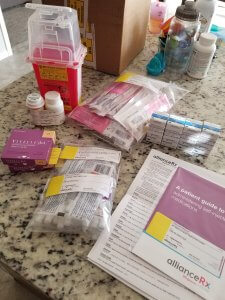 Next, I was on Lupron. The needle size didn't faze me at all. It was an easy shot to take, and one or two equated to the feeling of a bee sting. I was on this for 26 days. The Lupron did give me some killer headaches. I wanted to stay in a dark room, and I was very sensitive to sounds. Drinking a lot of water helps.
After 12 days, I began taking estrogen, as well. I took estrogen in the form of Estrace pills (two pills, twice a day) and an estrogen patch called a Vivelle Dot. I switched this patch every Monday, Wednesday and Friday. They leave behind a lot of sticky residue that is impossible to clean off. I had sticky marks until I was done with my meds at 14 weeks. The estrogen caused a lot of discharge. I had even emailed the clinic about it at one point to make sure it was normal.
My clinic was stricter about monitoring so, on day 22, I was required to have my ultrasound and blood work done at the clinic. This was the only ultrasound and blood work I had during the cycle. They checked my ovaries to make sure they were "quiet" and checked my uterine lining. I was good to go at 8mm. Then, they checked my blood estrogen level.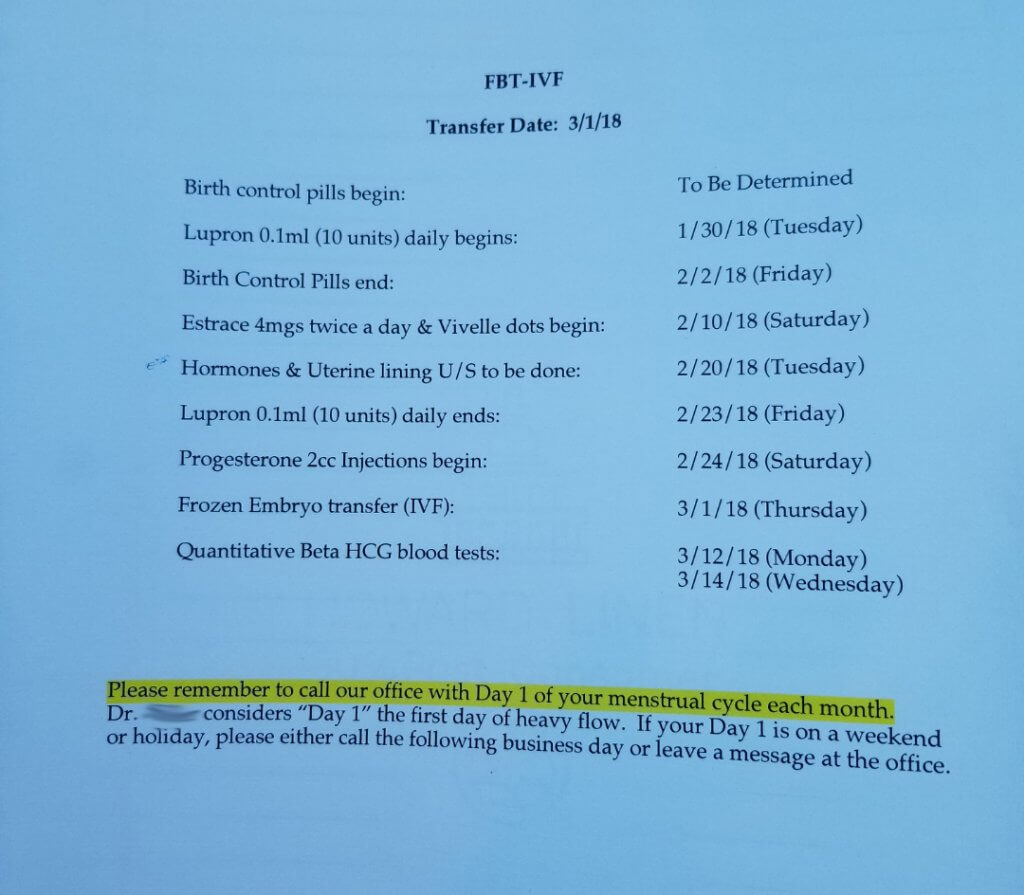 I began taking progesterone five days before transfer. This lines up with the age of the embryo(s). The needle is quite large: 22-gauge. This is due to the fact that it's an intramuscular injection. You really only feel that initial poke; the length of the needle isn't felt. The size of the hole of the needle is because the medication is in oil (sesame, olive, ethyl oleate). I actually had to switch from sesame to ethyl oleate after weeks on the injections because you can develop a delayed allergic reaction, which was a large rash in my case.
Some tips for this medication:
Warm the vial in your bra, on a heating pad or in your hands prior to injection. The oil is thick, so warming it helps inject easier.
Rub the area after injection thoroughly. The oil needs to be dispersed. I was on 2cc of PIO (progesterone-in-oil) so it was quite a large amount to put into the muscle daily.
You will develop lumps so massage, massage, massage. (Yes, rub your butt!)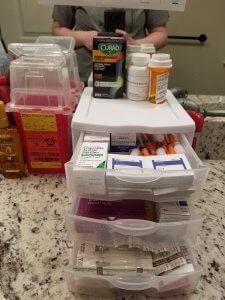 I used a cheap Walmart drawer container to store my medications. I'm very type A, and it helped organize things. I was constantly getting new shipments and refilling it. I also downloaded blank calendar pages to fill in what medications I took each day. I marked them off as I took them. It was taped to my bathroom mirror.
All of these medications need to be taken at the same time every day. So, if you have a job, plan to take them when you know you will be home!
—
We're so grateful to Chelsea for sharing her experiences and advice with future surrogates and for being such a great ambassador for American Surrogacy! If you'd like to talk to Chelsea about what it's like to be a surrogate with American Surrogacy, contact us now at 1-800-875-BABY(2229).