Since she was 16 years old, Megan knew that she wanted to be a surrogate. Before she even knew the joys of having children herself, she was prepared to selflessly give that gift to someone else.
"I had seen a TV show and it was a surrogacy story, and I thought, 'How cool is that,'" Megan remembers. "'That is totally something I could do.'
"Of course, that was before I had kids, but having kids — that made it even stronger. I thought, 'I could totally have a baby for someone else.'"
But little did Megan know that by helping create another family, she would gain a new one herself.
Finding the Right Match
Megan knew from the beginning of the surrogacy process that finding the perfect family would be the key for a successful surrogacy. She had reassured her husband and his concerns by asking him to think of the intended parents' situation and that, combined with her own standards, made finding the perfect match crucially important.
"Once you put yourself in somebody's else's shoes, there's really no turning back, once you see the struggle and the pain, and you wish you could just help everybody," she said. "I said to him, 'If we couldn't have children, what would you want? What would you want somebody else to do for us?'"
Because of the commitment involved in the surrogacy process, Megan decided to work with a surrogacy agency to find the right family and be guided as a first-time surrogate. After applying to multiple agencies, American Surrogacy was the only one to call her back — and a detailed conversation with surrogacy specialist Angie helped solidify her choice.
But even with a surrogacy agency, finding the right match was tough.
"I really wanted a strong bond, for one,'" Megan says. "I wanted all of our values to be the same, and I knew that it was going to be a little bit of a harder time to find what I wanted."
After signing up with American Surrogacy, Megan waited almost a year to find the family that would give her the "gut feeling" she'd been looking for. And, while it was a difficult wait, she wouldn't have changed it at all.
"I think oftentimes people are just wanting to settle and I've heard other surrogates get hurt because they settled, and that just sucks," she says.
Building a Family
Before Megan started working with American Surrogacy, she had been searching independently for intended parents. It was through the internet that she met Lindsey and Shiloh — who would change her life forever.
"It was just a gut feeling. The moment she messaged me there was just something there," Megan remembers about her first conversation with her intended parents. "It's just kind of like, when you know, you know, and… I just knew that they were going to be my family."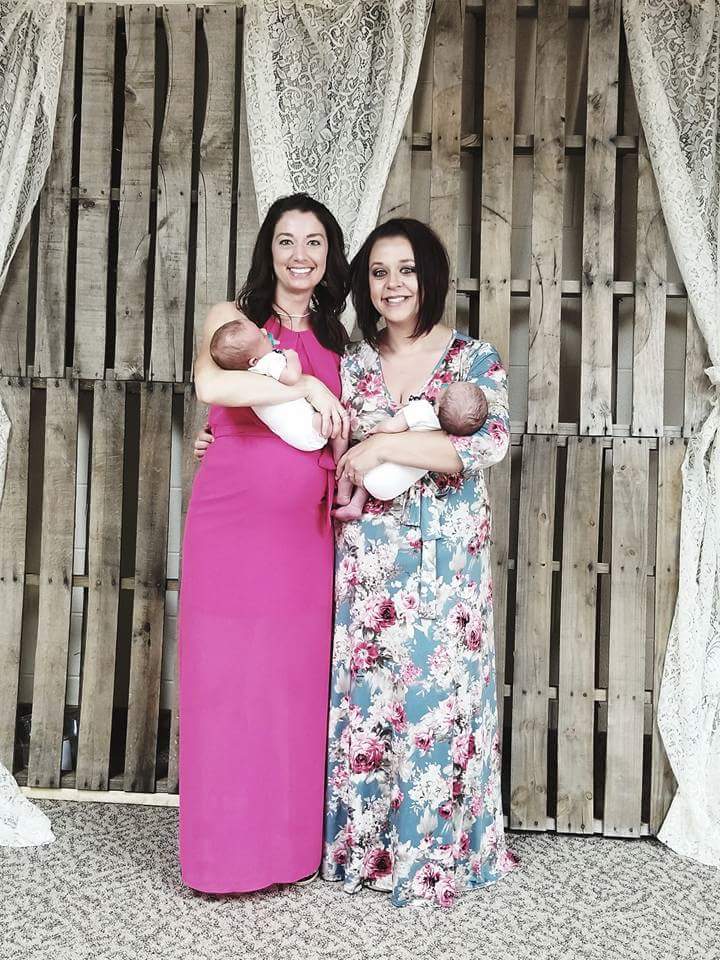 Lindsey and Shiloh had one adopted daughter but were looking to complete their family with the few remaining embryos they had. In a turn of fate, they lived within a couple of hours of Megan, which would help them create a stronger relationship than any of them could have hoped for.
Megan had the support of her intended parents through every joy and disappointment. They were able to attend most of her doctor's appointments, and she quickly informed them of her positive at-home pregnancy test after the embryo transfers, when she found out she was pregnant with twins.
So, when Lindsey surprised Megan with a pregnancy of her own, Megan had nothing but supportive thoughts in return.
"I almost broke down bawling," she remembers. "I didn't know what to say; we both kind of sat there, and all I could say was, 'Oh, my gosh; oh, my gosh.' It was amazing."
The surprise allowed Megan and Lindsey the chance to go through the pregnancy process together, as Lindsey's pregnancy was only eight weeks younger than Megan's. Megan says she was happy to share pregnancy tips and stories with someone who had become so important in her life.
Lindsey and Shiloh kept up their support until the end, even being present in the same room with Megan during her cesarean section. While Megan wasn't able to see Lindsey and Shiloh meet their boys for the first time, the first time she met them herself was just as wonderful.
"When they brought the babies in to meet me, with Lindsey and Shiloh, she handed me one and I started crying and she started crying," Megan says. "So, that right there, that was our special little moment. And there's nothing better in the world than to see that."
Looking to the Future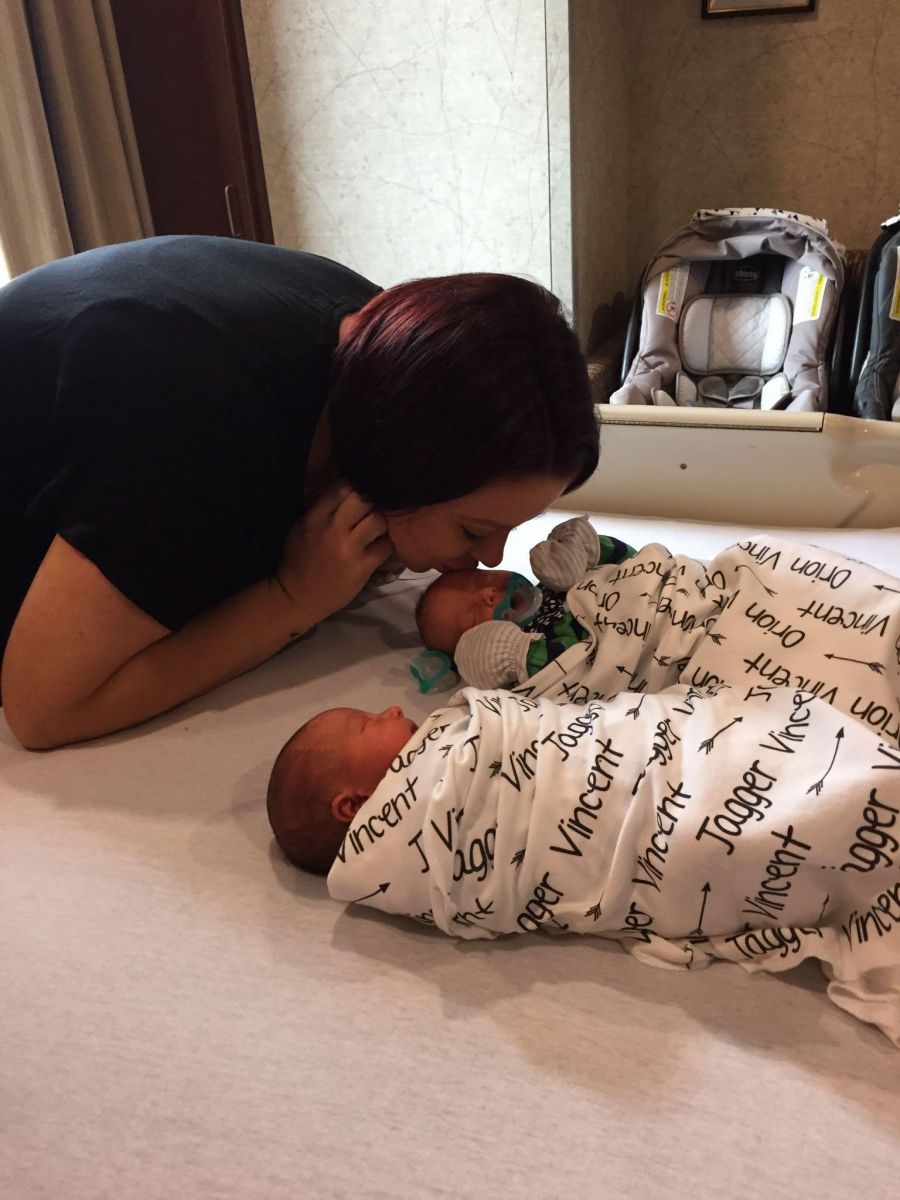 Today, Megan and her intended parents continue their relationship, just as she desired when she started the surrogacy process. An ongoing relationship was one of her requirements for intended parents, and she looks forward to watching twins Jagger and Orion grow up for the rest of their lives with the added bonus of in-person visits.
"You get your baby kisses and smooches, and I get to love on Lindsey and Shiloh, too," Megan says. "I didn't just have babies for somebody else; I gained an entire family through the whole process….It was the most rewarding thing in the entire world. I would do it all over again."
But, she adds, "I don't know if anyone could top Lindsey and Shiloh. I hold them on such a high pedestal that I don't know if I could ever get the same family again. I have such a wonderful relationship with them that I would want that again."
To read Lindsey and Shiloh's story, click here.
To learn more about becoming a surrogate with American Surrogacy, please call 1-875-2229(BABY).