When Lindsey and Shiloh started researching the surrogacy process, they couldn't have imagined where they would find themselves at the end of it — going from one child to four, with a new best friend to boot.
Looking back almost a year after the original embryo transfer date, Lindsey says she counts her blessings when it comes to her family's surrogacy story, especially in finding the perfect surrogate from the very beginning.
"When you want a baby, you want it right now — you wanted it yesterday — so it's very, very hard to be patient, but in the end, it's worth it," she says. "You want it to be a happy ending for everyone and, if you're patient, it will come."
The Start of a Beautiful Friendship
It certainly took patience for Lindsey and Shiloh to have the family they always wanted. After adopting their daughter Quinn, the couple went through two adoption disruptions before they started considering surrogacy as an option. Like many intended parents, they were concerned about the cost of the process..
But, with three embryos left from infertility treatments, they started researching surrogacy just to learn more. A chance encounter during this search would end up changing their lives forever.
"I was just looking to see what surrogates were available in Kansas, if they were any," Lindsey remembers. "I got online and saw that there was a surrogate very close to where my husband and I are both from, and I emailed her, and the rest is history."
Lindsey and the prospective surrogate, Megan, became close friends from the start. Megan had wanted to be a surrogate her whole life, but two previous matches with intended parents had disrupted because they weren't the connection she was looking for. That all changed when she met Lindsey and Shiloh.
"One of the first things she said to me was, 'I'm not in this for the money,'" Lindsey remembers. "She wasn't going to just do it for anybody; she wanted a family that she felt a connection with. That meant a lot to me.
"When she said that to me, and I knew it was about the connection and giving somebody the gift of life, we had an instant connection."
Support Throughout the Journey
While Lindsey and Megan found each other independently, they chose to work with American Surrogacy for the case management services they needed. None of them had any experience with the surrogacy process, and having an expert there to guide them through the complicated details was invaluable.
But just as much as American Surrogacy's specialists supported the intended parents and surrogate throughout their journey, they all leaned on each other just as much. Lindsey and Megan built a close friendship as her pregnancy progressed, thanks to living in the same state and Megan's openness to including the intended parents in whatever way she could.
"She was so good at keeping me informed on what was happening, how she was feeling," Lindsey says. "We went to lots of doctor's appointments together. Anything that I wanted, she wanted."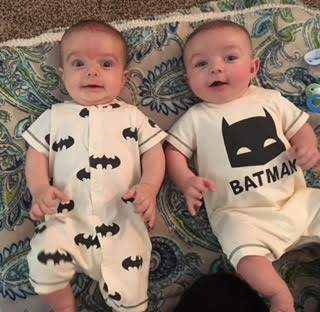 While contact arrangements like Lindsey's and Megan's can be set out in surrogacy contracts, the two had such an open, respectful relationship from the beginning that it wasn't necessary in their case. They talked about everything, including the possibility of transferring two embryos for the medical process. While Megan wasn't sure about that to begin with, Lindsey says the two talked it over in detail until she was more comfortable with the possibility of carrying twins.
It was this continual open, respectful conversation that made their surrogacy a better experience than Lindsey says she could have thought possible.
"Megan was open to us going to doctor's appointments, so we were able to, on a monthly basis, see her and see how she was changing, see her belly grow and see all the sonograms," Lindsey says. "That helped more than anything."
And Babies Make Six
Eight weeks into Megan's pregnancy, Lindsey met with her to tell her news that was a huge surprise to both of them: Lindsey was pregnant with a baby girl.
Out of respect to their relationship and situation, Megan was the first person that Lindsey told.
"I knew she would be happy for us, but I didn't want to her to feel differently, I guess, or feel like we planned it or anything like that, because it clearly was not planned," Lindsey says. "We were eating ice cream and I pulled out the sonogram picture and pushed it across the table to her, and she just started crying, like, 'Oh my gosh — are you serious?'
"She was super excited for us," Lindsey says.
As much as Megan's surrogacy pregnancy meant for Lindsey and Shiloh's dreams, her surrogacy experience helped her meet some of her own firsts as well. While Megan had two girls of her own, she had always wanted a boy — and it just so happened that she was carrying the intended parents' twin boys. She had also never experienced a natural birth, but the day before she was scheduled for a cesarean section for the surrogate pregnancy, her water broke.
All four members of the surrogacy process were able to be in the hospital room during Megan's cesarean section: Shiloh, Lindsey, Megan and Megan's husband. Everything went smoothly and, even though Shiloh and Lindsey had their own room with their sons, they visited Megan's recovery room with the babies as often as they could. When they were all discharged on the same day, Lindsey said it was an emotional moment, even with the promise that they would continue to be close friends as the boys grew up.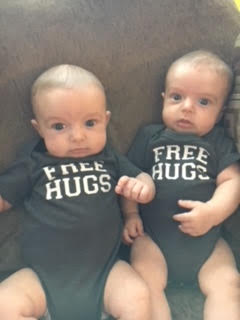 "It wasn't necessarily saying goodbye to her, but it was just a different chapter and a different part of the relationship," Lindsey remembers. "I knew it was going to take a little more work for us to stay together, because there wasn't going to be doctor's appointments and that tying us together. It was just a new chapter, and we both knew that."
But the two didn't stay apart for long; today, Megan meets up with the new parents and children Quinn, Orion, Jagger and Willow about once a month. Lindsey says she plans to keep Megan in their lives for as long as possible.
"I never thought that it would go from complete stranger to best friend and a relationship that will always be there, so that's pretty neat," Lindsey says.
To read Megan's story, click here.